Landscape & Hardscape Services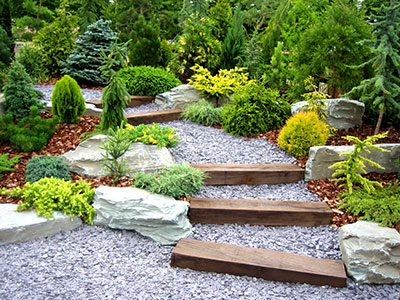 We at Thorpe Landscape Inc. are a front-running company in the landscaping industry. For over 30 years, we have worked consistently to provide commercial, residential, and HOA clients in the Northern Virginia Area with the best lawn care, landscape cleanup, patio paver repair, and other services at the most cost-effective pricing.
We offer tailored and personalized solutions that meet client needs, and you get high quality, resilient outdoor spaces, and outstanding customer service too. The range of services we offer include:
Spring & Fall Clean-Ups
In addition to regular maintenance of various features in your landscape, you also need to make sure that the spaces are cleaned up regularly. We offer high-quality spring and fall cleanup solutions to our clients. As part of the services, our team will handle the cleaning of flower beds, leaf removal, debris removal, as well as a range of other trimming and pruning. In most cases, clients opt for the solutions as part of annual lawn and landscape maintenance services. However, if you need a one-off spring cleanup or fall cleanup done, we are more than happy to help. Our high-quality landscape cleanups are available at very cost-effective pricing.
Mulch Installation
Mulching is an essential aspect of maintaining the health and appearance of a landscape. We offer customized mulch installation solutions and offer a variety of products that you can apply in your landscape. Whether you want dark mulches or pine mulches, we can provide the kind of services you require. Our team is here to give you all the information that you need about the different types of mulches and their qualities. Spreading mulch in various areas of your property helps to maintain the moisture levels and allows your plantings to get the nutrition and water they need.
Lawn Mowing Service
The beauty and health of your lawn spaces depend on how well they have been maintained. In addition to regular fertilization, watering, and pest control applications, you need to make sure that your lawns are mowed with regularity. This job needs to be done without fail at specific intervals to ensure that the grass stays looking great and in good condition. Mowing lawns every fortnight helps to maintain their health and encourages new growth as well. Well-manicured lawn areas improve the curb appeal of your property and its value. We provide customized lawn mowing plans that fit into your budget perfectly.
Drainage Solutions
Aside from the softscaping and hardscaping elements on your property, it is also necessary to focus on having the right kind of drainage installations. The drainage systems on your property have a very crucial role to play in sustainability and health. We have expertise in this industry and offer custom drainage solutions. Not only can we install French drains and channel drains on residential properties but can also plan and install large-scale drainage network systems on commercial and HOA landscapes. We plan your drainage system so that all the water runoff from your landscape is directed to the outer main drains.
Patio Pavers-Repairs
Pavers are incredibly resilient and able to withstand foot traffic and wear for several years. But they can sometimes become damaged or old. If you need any patio paver repairs, we can help. Whether you require paver restoration, paver sealing, paver replacement, or edge repairs, we are the company to call. We use high-quality materials and the latest techniques in our work and complete the paver repair jobs to industry standards. While we do handle residential projects, we also cater to HOA and commercial clients that need paved patios repaired.
Professional Consulting
When you are getting a landscape installed, you need to make sure that the planning and design are done correctly. We offer high quality professional consulting solutions so that you get the right kind of features and installations for your property. Our skilled and experienced designers work with you and take the time to understand what your specific requirements are. Based on these discussions, they will provide their inputs and ideas about the types of flower beds, lawns, and pavers that you can install. This professional consulting service goes a long way in ensuring that you get high-grade solutions and can make the right material choices.
Bed Edging
When you are designing and planning your landscape, you want all the areas to have the right boundaries. It is where bed edging features come into the picture. These could be made of different types of materials, including brick, natural stone, boulders, metal, concrete, and more. We customize these solutions, and make sure that the materials and styling used in the project, complement the overall appeal of your landscape. Bed edging creates an elegant and defined look on your property. Not only does it help to protect your flower beds from being trampled but also holds aggregate and gravel in place, which enables you to maintain the outdoor areas more easily.
Flower Bed Maintenance
If you have flower beds on your property, you need to maintain them with regularity and attention to detail. Not only do you need to make sure that the topsoil composition is correct, but that they are getting the right kind of fertilization, pest control, etc. It is also necessary to aerate the soil at regular intervals and de-weed area. If your flower beds do not have the edging, they can get trampled upon, and you can opt for bed edging solutions as well. Commercial and HOA properties tend to have more flower beds than residential ones. We cater to all clients and provide individualized, personalized services that offer them value for money.
Aeration
Sometimes, the lawn areas must endure a lot of traffic, which causes compaction of the soil. When this happens, it can affect the health of the grass because the roots are unable to get the amount of water and air they required to grow well. In situations like these, it is necessary to get core aeration done in your lawn spaces. Depending on what the condition of the lawn is, we can customize our services. In addition to core aeration, we would also recommend that you get fertilization done at the same time. Aerating the soil helps to ensure that it is loose, and the water and nutrients can seep into the ground to provide your grass the nutrients it requires.
Overseeding
If you have noticed bare patches or thinning of your lawn areas, you should call us for overseeding the lawns. We are very skilled in this job and will determine what kind of seed is required to get your lawn back to its original condition. We use a specialized mix of seeds and fertilizers and cover the entire lawn area with this mixture. Overseeding the lawn is one of the best ways to enhance its appearance and make it more sustainable and resilient to wear. We use high-quality seed and conduct touchups if required after the main job is done. Overseeding the lawn is a great way to enhance the appeal of your turf and increase the curb appeal of your property.
Bush & Shrub Pruning
Pruning of shrubs and bushes is crucial to ensuring that they remain healthy and resilient. While it may seem that fuller bushes are better, that is not the case. When you get bushes and shrubs pruned and trimmed regularly, it enhances their growth levels. It also becomes possible to notice any infestations that may exist on the branches. It gives the technicians the chance to trim those bushes entirely so that the rest of the planting is not impacted in any way. We provide customized pruning solutions to commercial, residential, and HOA clients and ensure that the plans we offer are in line with their needs.
Our company handles jobs of all shapes and sizes and always makes sure that you get customized services. With us, you are sure to get uncompromising quality at competitive costs. We are committed to excellence, so you get landscaped spaces that look great and last long.
For any more information about our various services, please call us at 703-926-6320. Our team is here to provide you with all the information that you need. Feel free to contact Thorpe Landscape Inc. for a free consultation, estimate ad even references. You can also request a free estimate through the form on this page and one of our expert team members will call you within a short time.